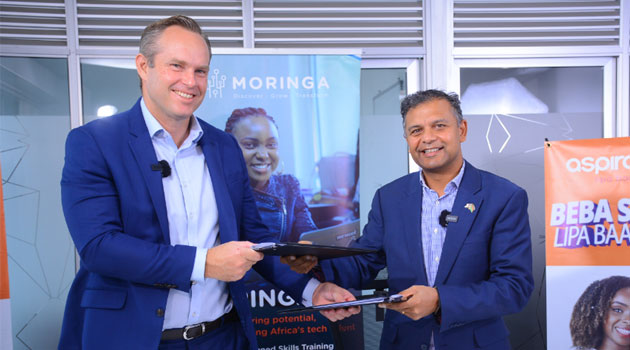 NAIROBI, Kenya, March 21 – Aspira Kenya, a wholly owned subsidiary of Cim Financial Services Ltd and Moringa school have unveiled a partnership that will enable students to benefit from its Soma Loan education financing facility as they seek to acquire critical market-driven skills in technology.
Through the partnership, students will be able to access finance to purchase laptops and hi-tech machinery, desks, chairs, and other resources they need to start off on their professional or entrepreneurial journey.
"Financing of education is a critical investment in the future of Kenya, as it helps to promote social and economic development, reduce poverty, and enhance the overall quality of life for Kenyan citizens, irrespective of their socio-economic background," said Cim Financial Services Ltd CEO Mark van Beuningen.
On his part, Snehar Shah, Moringa School CEO said, "The challenge we have as a country is to produce skilled workers who understand how to use technology to solve problems and to build a workforce with such competencies these trainees require affordable and flexible financing to see them through their respective courses."
"Despite the marketability of tech courses, many deserving students face challenges to pay the course fees, which is why having a financing partner will be of benefit to students," Snehar added.
Moringa School is a multi-disciplinary learning accelerator committed to closing the skills gap in Africa's job markets by delivering transformative tech-based learning to high-potential job seekers, and on graduation connecting them to local and international employers who desire high-quality tech talent.
Through the introduction of its 5-6 month Software Development and Data Science Bootcamps, the school has trained over 7,000 learners from diverse backgrounds and experiences while channeling their motivation to learn and grow through a market-aligned curriculum.
Aspira has unveiled plans to partner with more schools, universities, and professional training institutions in Kenya to enable them to focus on their core business while Aspira assists with the financing of the course fees.