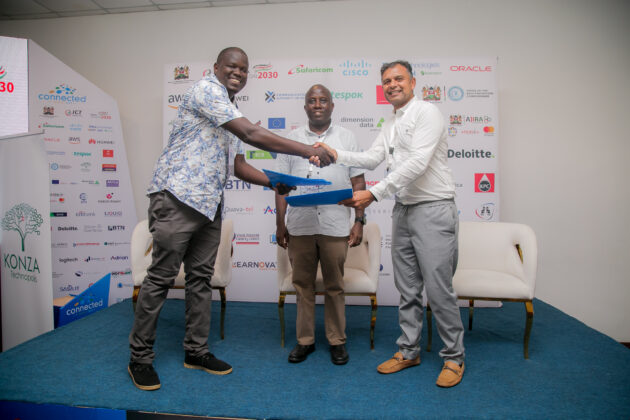 NAIROBI, Kenya, April 5 – Konza Technopolis Development Authority (KoTDA) and Moringa School have signed a memorandum of understanding (MoU) to support the design and implementation of the Jitume digital skills program in Kenya.
Through the partnership, the youth will now access digital skills training via the Moringa School platforms.
Jitume Skills Program is a government initiative aimed at accelerating the pathway for Kenyans to get onboard Digital Economy by providing a pathway to enable young people to overcome the device, skills and opportunities barriers currently existing.
The program targets to enable 1 million young Kenyans take part in digitally enabled jobs in the next 3 to 5 years.
The signed MoU which was witnessed by John Tanui, Principal Secretary in the Ministry of Information, Communications and the Digital Economy, will focus on the technology transfer between the two institutions and jointly expend the effort in promoting local content and customizing technologies from the world over to fit the local context.
Speaking at the Connected Summit 2023 in Kwale where the signing was done, PS Tanui lauded the two organisations for driving digital skills development in the country for the benefit of the digital economy.
"We appreciate this initiative by Konza and Moringa School that will ensure that programs available at Moringa School are accessible to Jitume beneficiaries. This will enable young Kenyans to get quality training and access to global opportunities," he said.
The PS noted that the youth will be able to learn and access digital skills which shall propel them to access global online jobs.
The five-year MoU will see Moringa connecting participants of Jitume who further enrol to Moringa programs to local and international employers.
On his part, John Paul Okwiri, Ag. CEO of Konza noted that the MoU is a boost to the Jitume Program which is currently being rolled out across the country.
"We are very grateful and happy to get this kind of support from Moringa School. We have been working with TVETs institutions, but this signing today will enable us roll it out to the rest of the country through the institution."
Snehar Shah, CEO, Moringa Schools noted that the MoU build onto their success as a training institution while supporting digital jobs creation in Kenya.