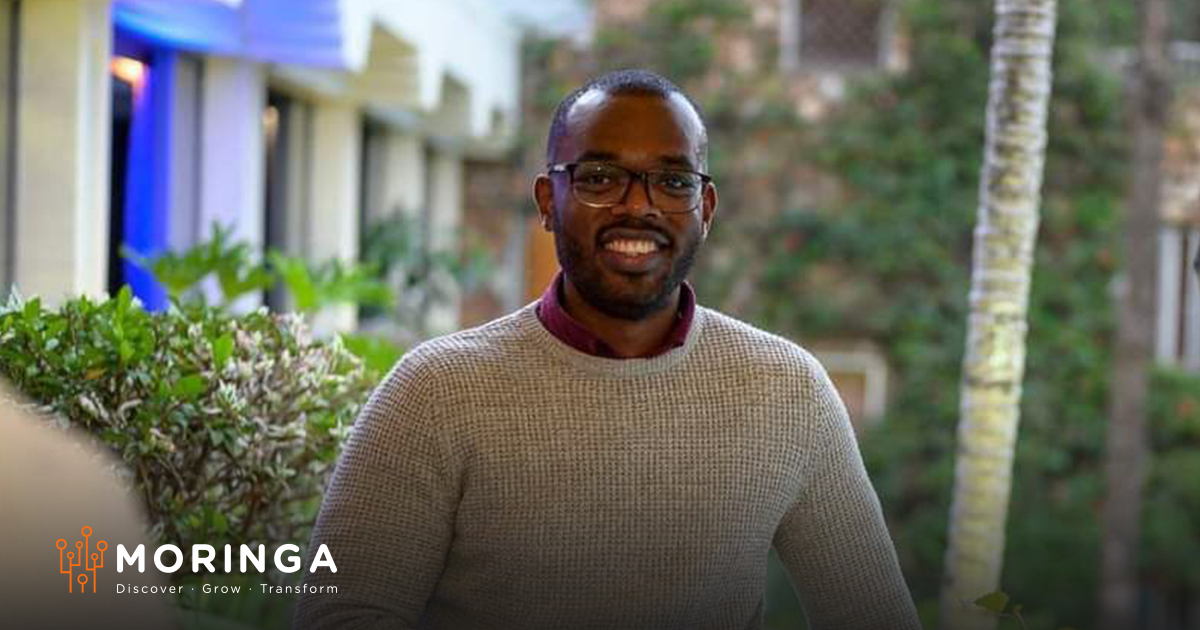 For Immediate Release:- Nairobi, Kenya on September 15th, 2022:–
Following the close of its Pre-Series A funding, Moringa's leadership is growing as it expands its course offering beyond the flagship Software Engineering and Data Science Bootcamps.
Moringa, a Kenyan-based ed-tech platform, today announced that as it continues to build on its industry-leading transformation in ed-tech, Joshua Otiende has joined the company's executive leadership team as the Director of Product & Partnerships. The tech-based learning institution has a track record of training more than 4000+ graduates in Software Engineering and Data Science in the past 7 years with an employment rate of 85%. With the existing curriculum licensing from Flatiron School, Moringa is introducing 1 new Bootcamp in Product Design and additional short courses such as  DevOps, Data Visualisation with Python, and Front-end Web Development.
Joshua Otiende joins Moringa as the new Director of Product & Partnerships at the crest of its expansion. Joshua is an industry veteran with over 8 years of experience and a proven track record of strategic leadership and execution, most recently serving as the Strategic Partnership & Product Manager-Financial Services at Safaricom leading the setup of the wealth management segment. Prior to Safaricom, he held a variety of leadership roles in renowned Fintech corporations such as KCB Bank Group, ABC Bank Group, and Britam. Joshua holds two postgraduate degrees, a Master's in Business Administration and Management from USIU and a Micro-Masters in Digital Product Management from Boston University.
He brings a wealth of experience in the business-consumer and business-business spheres of product design, innovation, and management. He has driven product research strategies for multi-million dollar businesses during times of growth and revitalization helping brands further their flagship products.
Joshua Otiende said, "Moringa plays a pivotal role in the transformation of Africa's ed-tech. With an extraordinary record of growth and success, I am honored to be asked to lead such a distinguished institution as the Director of Product & Partnerships. I intend to apply my  skills and expertise in building and delivering new products to propel  Moringa's growth across African countries."
Snehar Shah, Moringa School CEO also commented, "The footprint of Moringa accelerated learning model continues to grow across Africa with the hope of impacting and transforming the lives of thousands of African youth through tech education. Joshua's extensive leadership and expertise in driving Product & Go-to-Market Strategies for new products will help Moringa set a long-lasting impression on all stakeholders including attracting students desiring less technical content in Product Design, offering short courses for Professionals on a part-time basis and increasing customer lifetime value by continuing to upskill our graduates. "
The new short courses will be offered on a phased roll-out basis starting mid-October in Kenya and across other African countries. Interested learners are encouraged to apply via the Moringa Kenya website using this link and the International Markets website here. 
Media Contact:
Joy Mugambi
Senior Digital Marketing Lead | Moringa
marketing@moringaschool.com
0712293878
About Moringa School
Moringa School is a multi-disciplinary learning accelerator committed to closing the skills gap in Africa's job market by providing transformative tech-based learning. Our curriculum is industry-specific and blends technical education with professional skills development and practical experience. Our outcomes-based model ensures that employability is a core focus of our transformational training. We promote excellence and a strong sense of community whilst delivering accelerated learning programs, with ongoing operations in Kenya, Ghana, and Nigeria. Soon to expand in Tanzania & Mauritius.