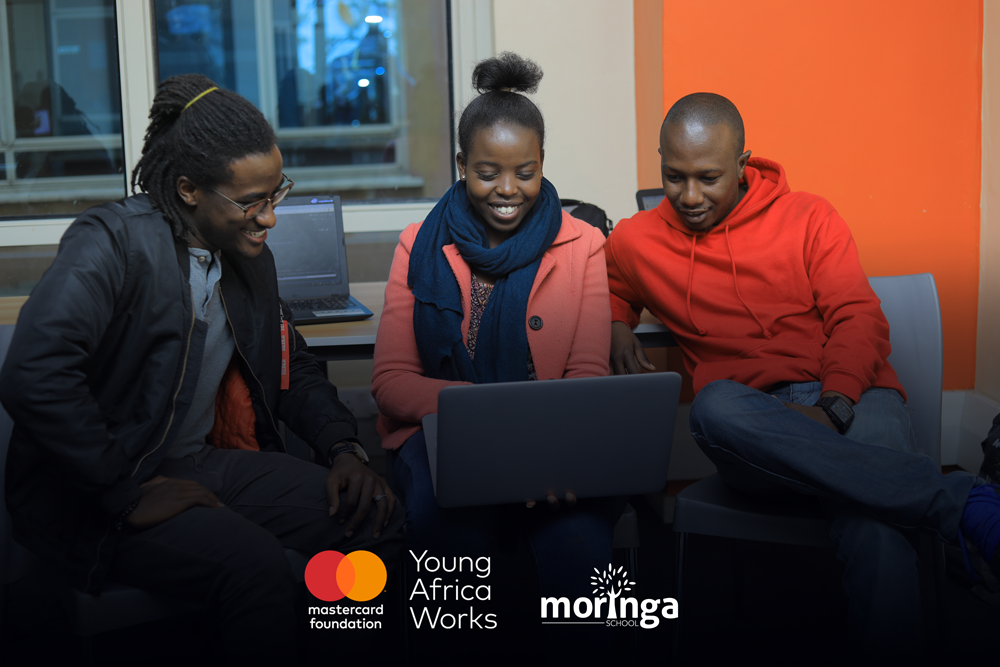 In 2019, Moringa School and Mastercard Foundation through its Young Africa Works Strategy entered into a 3-year funding partnership aimed at strengthening Moringa's capacity to provide a quality education that leads to employment to a total of 8,000 students between 2019 and 2022.
Moringa School does this by providing scholarships for digital and professional skills training in software development and data science, through their blended learning model, to low-income women and youth. The graduates are then linked to work opportunities at technology firms in Kenya and across the region. This project also provides technical assistance to enable Moringa to improve the quality and relevance of their skills programming for low-income students.
In this article, we dive deep into one of the activities under the funding partnership that involves improving access to education. To tell us more about it is none other than Moringa's Kenya Country Director, Nelly Agyemang-Gyamfi.
Q: Please tell us a bit about yourself and student financing at Moringa School
Sure. A little bit about myself: I'm very passionate about unlocking human potential which is why I have been in education for the last 7 years. I'd like to say that I sit at the intersection of education and business – enabling educational institutions to provide quality and effective educational experiences.
On student financing at Moringa School, what I can share is that we have always known that this was key to us achieving our vision of anyone being able to create the future they wanted and the economic crisis caused by the global pandemic made this even more crucial.
Quality education costs money but that does not mean that prospective students must be limited to poor education choices by the amount in their bank accounts. Also, while scholarships are a viable option, they are unsustainable in the long run hence the need to look into and create sustainable financing options for education.
Q: What specific services are provided as part of student financing?
Currently, we offer 3 options: full-tuition scholarships for students from low-income backgrounds, partial scholarships for our preparatory programs, and student loans for our advanced program.
The aspect of student financing we are most focused on piloting and scaling is the student loans. We currently have a partnership with Lending for Education in Africa Partnership (LEAP) where we are offering what we call income-contingent loans.
Income contingent loans (ICLs) are an amalgamation between traditional loans (having a standard amount to be paid each month) and Income Sharing Agreements ( repayment being responsive to one's situation in life). The LEAP loans can cover either tuition only, living stipend only, or both tuition and living stipend. Living stipend loans can be used to purchase laptops or offset the cost of transportation, food, or rent for the duration of the program.
The LEAP Loan is collateral-free as it is tailored to meet students' needs. The amount of the loan ranges between Kshs. 40,500 and Kshs. 200,000. The interest rate is currently 10% per year in the first year and the rate is reviewed annually. Students may be awarded an interest reduction based on merit (academic performance, repayment behavior of the monthly interest repayment, and LEAP fellowship participation)
During their studies, students are required to make a monthly interest repayment between Kshs. 70 – 500 (depending on the amount borrowed). After the course completion, students are required to make a standard monthly payment of between Kshs. 5500 – 7000. These monthly loan repayments are due starting 4 months after the end of classes.