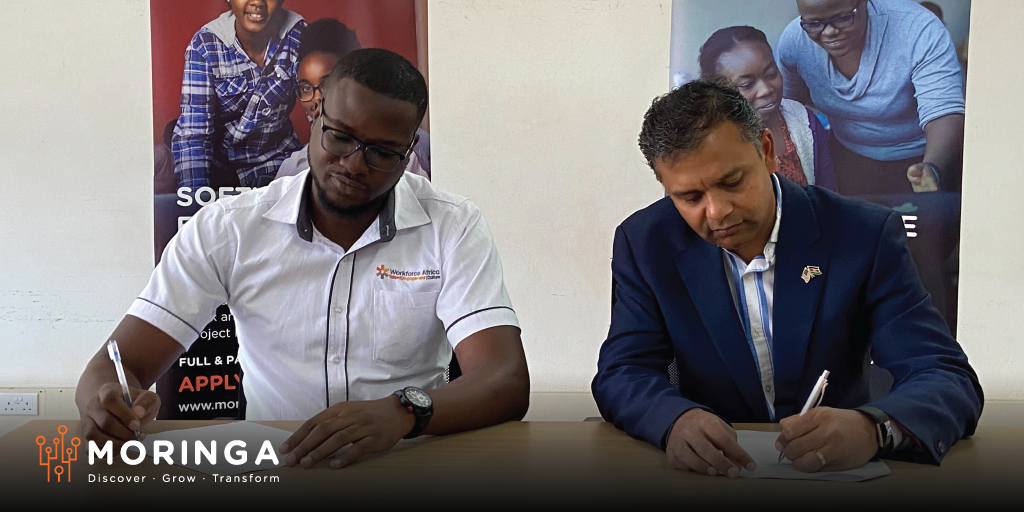 Moringa<> Workforce Africa signed an agreement on the 27th of January 2023 that will see the two organizations join hands to create opportunities for young African Talent through various initiatives like job placements, career readiness, and career development activities.
Transformative leadership calls for doing things differently if we are to anticipate different outcomes in the future. Moringa School's mission is to provide opportunities for young Africans to create their future and curb the unemployment problem. Tech skills training alone is not enough. Hence, Moringa strives to form strategic alliances and launch partnership programs that will empower the youth with career-ready skills.
Workforce Africa is a leading HR solutions provider with over 40 years of Pan-African experience in providing Human Resource Management services across Kenya, Uganda, Rwanda, Tanzania, Zambia, Ghana & Nigeria. Through data-supported recruitment and staffing solutions, Workforce Africa is aiding organizations to be productive and profitable while sustaining a valuable competitive advantage in the ever-changing business world.
With a strong background in partnering with software development companies and studios to provide the right fit and verified staff, Workforce Africa now partners with Moringa School to create opportunities for graduates and alumni navigating various tech careers
This partnership will see Moringa School graduates have an opportunity to land tech job opportunities from the Workforce recruitment platform. The graduates will also have a spot in the Workforce Graduate Management Program for a select period. In addition to job placements, the two organizations will commit to working together on career-related events. These will add value to the Moringa graduates and prepare them for the world of employment, freelancing, and entrepreneurship.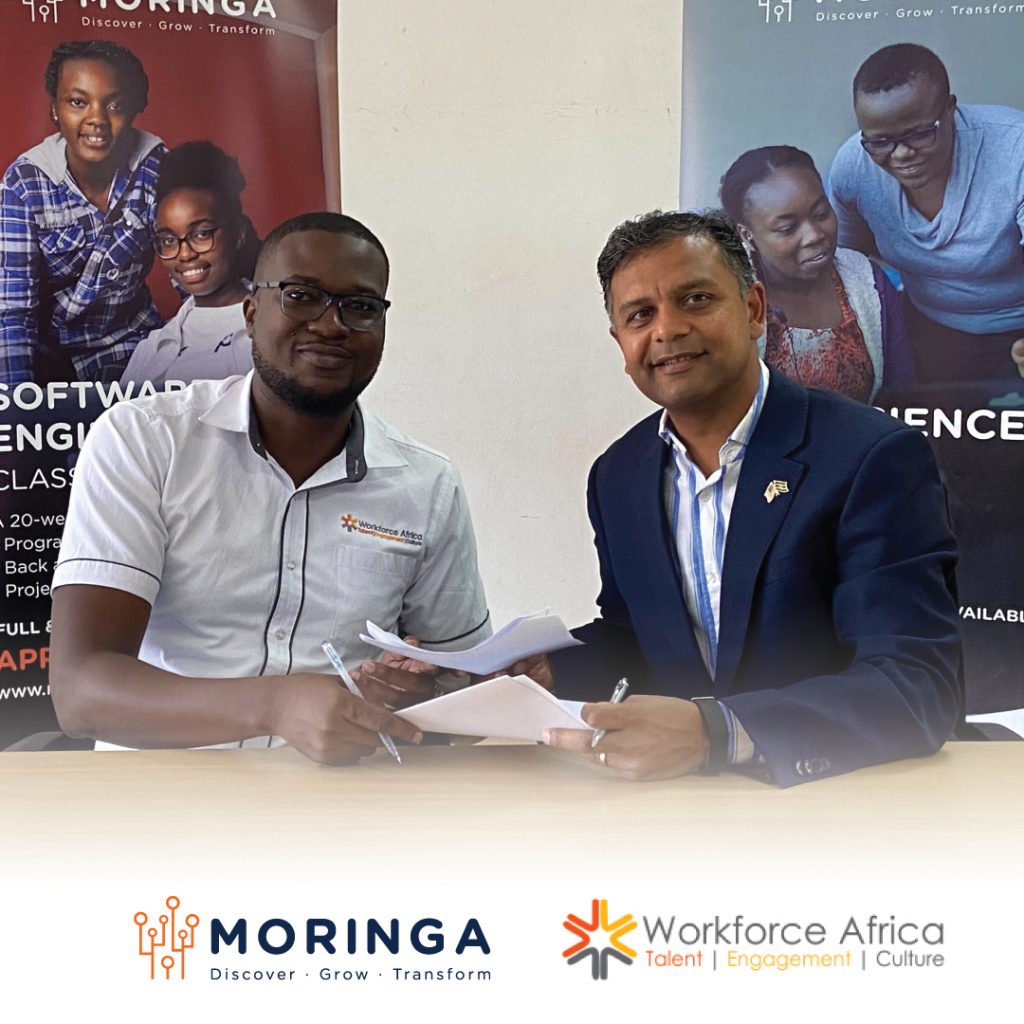 In attendance for the signing ceremony from Workforce Africa – Arnold Ochieng (General Manager),  Steve Munyao (Lead Technical Talent Consultant), and Kevin Maina (Technical lead). From Moringa – Mr. Snehar Shah CFA ( The C.E.O) & Sarah Ngetha (Senior Employer Relations Associate).
About Workforce Africa
Workforce Africa is an HR solutions provider dedicated to providing Human Resource Management services across Africa. With over 40 years of experience, Workforce Africa helps you create engaging, productive and profitable organizations through data-supported insights.
For inquiries:
Email – service@workforceafrica.co.ke 
Company Website – https://workforceafrica.co.ke/
About Moringa
Moringa School is a multi-disciplinary learning accelerator committed to closing the skills gap in Africa's job markets by delivering transformative tech-based learning to high-potential job seekers. Our outcomes-based training model ensures that employability is a core focus of our transformational training. With an average employment rate of 80% post-graduation, our industry-specific and market-aligned tech education is transforming young lives on the continent. We run a remote-first hybrid and instructor-led training program with operations in Kenya, Ghana, and Nigeria.
For inquiries:
Email – marketing@moringaschool.com 
Company Website – https://moringaschool.com/ 
For partnership inquiries with Moringa School send an email to – corporate@moringaschool.com