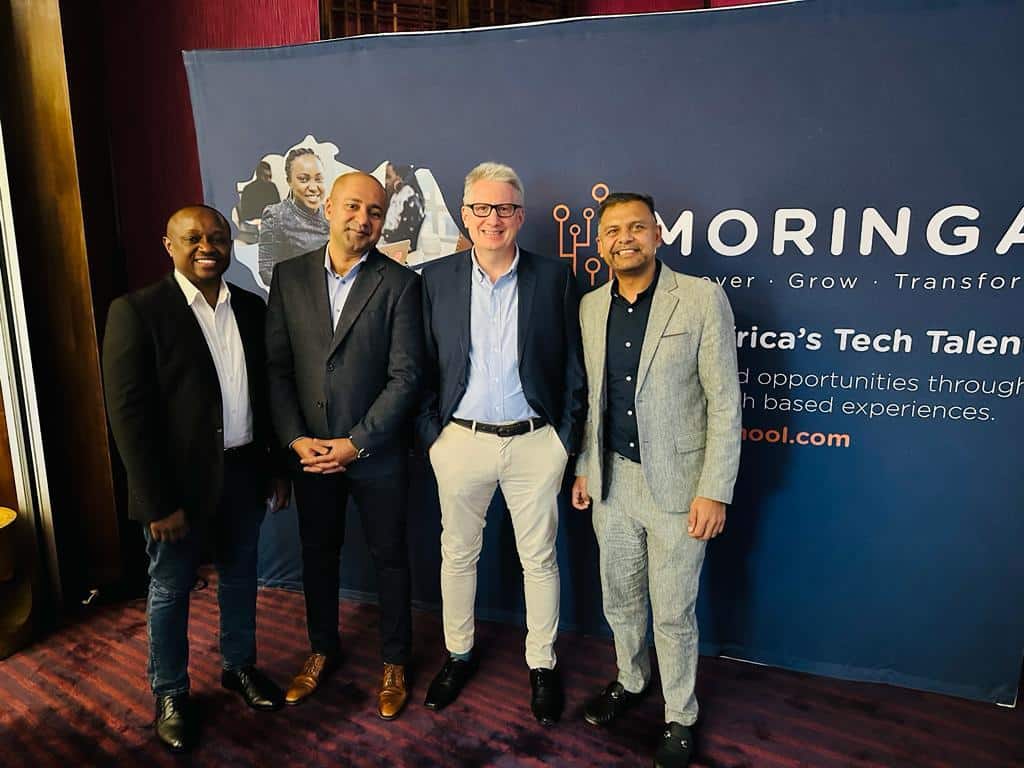 Edtech Leader Moringa has launched a comprehensive suite of training courses in Artificial Intelligence for the student and professional market to build on its diverse range of offerings including Software Engineering, Data Science, UI/UX Product Design, Cybersecurity, DevOps, etc.
The specific courses launched are based on Moringa's partnership with the leading US Bootcamp provider Flatiron School which is delivering this training to Global Fortune 500 companies. Moringa's AI offerings will range from a Masterclass on "Introduction to Prompt Engineering" to 1.5 days of training on "AI Strategy for Business Leaders" to a 1 week-short course on "Building and Deploying AI Applications".
The launch was done with some of the key corporate decision-makers in the region while launching its Tech Advisory Board shows Moringa's position in the market as a leading entity in Africa for training and finding opportunities both locally and globally for cutting-edge tech talent. As chair of the newly formed Tech Advisory Board, Snehar Shah, CEO announced the names of Akshay Grover, Group CEO (Cellulant), Ben Roberts, Group Chief Technology and Innovation Officer (Liquid Intelligent Technologies), Mike King, CTO (Copia), and Dr Bright Mawudor, Cyber Security lead at MARA to be distinguished members.
Snehar Shah commented, "Moringa School will immensely benefit from the guidance of these technology experts on the developing trends and skilling demand such that the company can be ahead of the curve in supplying quality, market-aligned talent at affordable prices. Our newest AI offerings will retail from costs as low as KES 10,000."
Representing the Tech Advisory Board members, Akshay Grover added, "Given my and the board's collective experience in building local and global tech or tech-led organizations, it is a great opportunity to give back to Moringa's mission of transforming the tech talent in Africa. We look forward to the opportunity of Africa leapfrogging in the AI revolution".
Enrolments for the new AI courses will commence from August 2023, while the company continues to enroll for the other flagship products on a rolling basis with quarterly cohorts and graduating students available for internships and job placements locally and globally.
About Moringa School
Moringa is a multi-disciplinary learning accelerator committed to closing the skills gap in Africa's job market by providing transformative tech-based learning. Founded in April 2014, Moringa School plays a pivotal role in developing and nurturing high-potential individuals who are passionate about technology and want to take a lead role in Software Engineering and other tech-based programs.
Moringa prides itself in training 7,000+ students and placing more than 75% of its graduates into leading companies throughout Africa and the world. Some of the notable companies that our graduates have been placed in include Safaricom, I&M, Andela, Sanlam, Microsoft, Cybertek, and Dalberg Data Insights. In 2020, Moringa was listed among the top 50 Edtech companies in Africa by HolonIQ. The World Bank cited Moringa as a leader in the space following its research into technology boot camps. Most recently, Moringa School was selected as one of the World Economic Forum's "Technology Pioneers in 2021."
Through a distinctive learning model and a curriculum partnership with Flatiron School [the leading boot camp in the US], Moringa is creating world-class developers in Africa.
For more information about Moringa, visit: https://moringaschool.com/
For media inquiries or further information, please contact:
Steve Nyikuli – Director of Marketing,
Mobile: +254 719 407816, steve.nyikuli@moringaschool.com