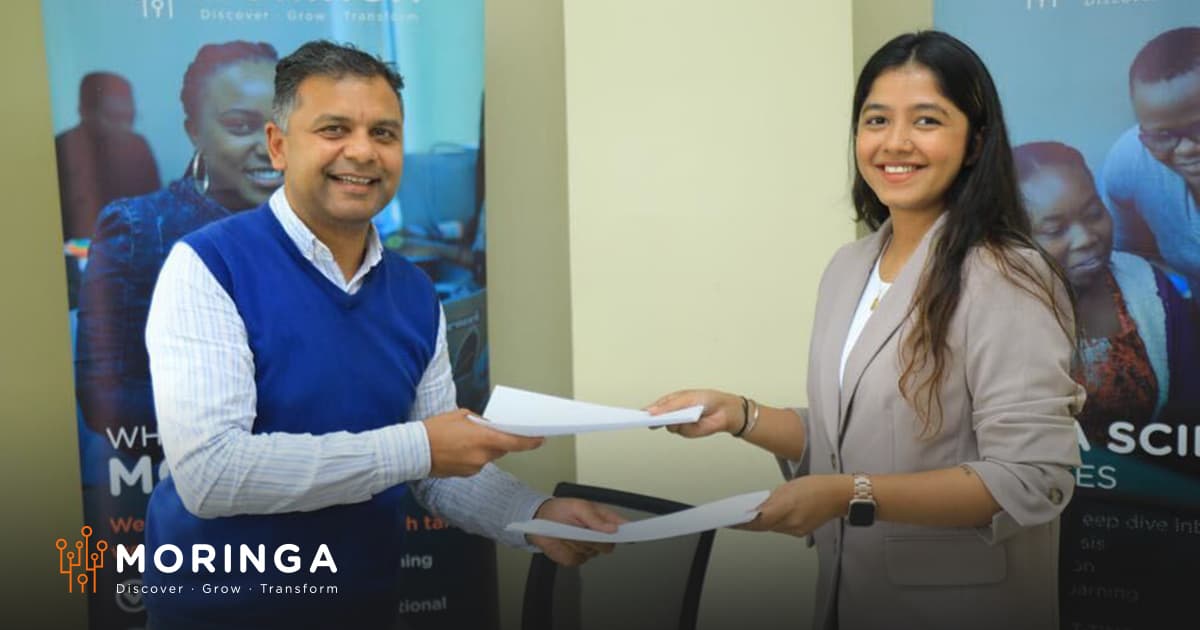 Hindsight Ventures and Moringa School partner to advance access to talent and opportunities.
30th August 2022, Nairobi: As startups in Africa continue to attract venture capital, the demand for tech talent is proportionately on the rise in the continent. In 2021, African entrepreneurs attracted close to $5 Billion in venture money, and as per a report by Google and Accenture, this saw an increase in developer pool in the continent by 3.8% – contributing to nearly 0.4% of the total workforce in the continent. With the increasing internet penetration, local demand for web and android developers has shot up. However, it is interesting to note that nearly 38% of this talent pool works for at least 1 company outside the continent. The global demand for tech talent is on the rise, with the arbitrage of "remote working", and this has put the African developer ecosystem in the spotlight.  
However, with almost 800,000 developers across the continent, one of the key challenges plaguing the ecosystem is a cyclical one – access to good opportunities for top talent, and access to quality talent for fast-growing companies. Hindsight Ventures and Moringa School have combined forces to solve this problem for their respective stakeholders.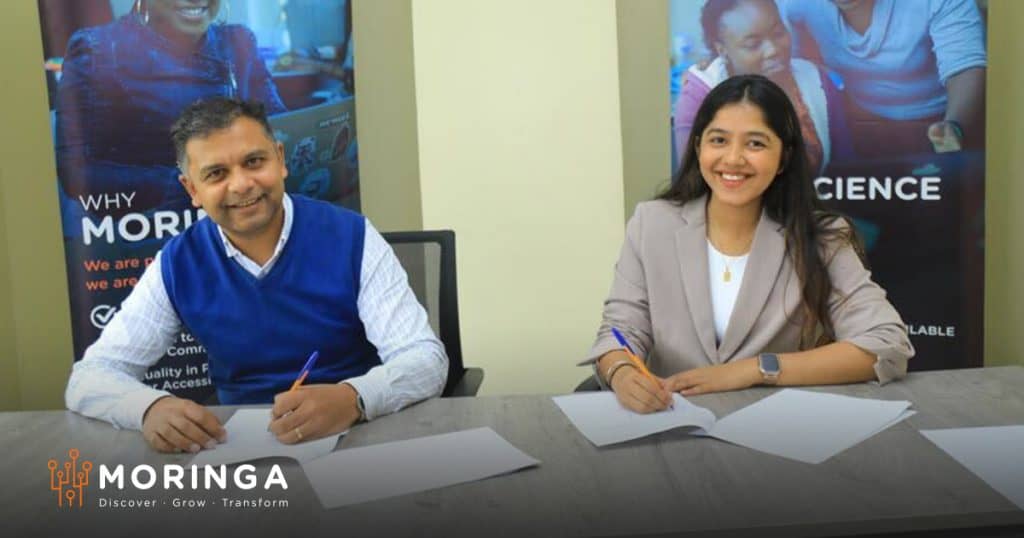 Hindsight Ventures is an Africa-focused startup accelerator with its roots in India. Over the past 18 months, Hindsight Ventures has been one of the fastest growing accelerators in the market, rolling out its own branded programs and partner programs with leading corporations and other institutional partners. Says Jagruti Bista, Co-Founder & Managing Partner, Hindsight Ventures "Several of our portfolio companies have gone on to raise venture capital, and a common thread of conversation is around top tech talent that will allow them to build a robust, scalable product. There is a real gap that needs to be addressed. In the recent few quarters, we have seen leading global tech giants set up their developer programs in Africa, to build a local talent pool. Unlike other emerging markets, there are very few leading universities churning out Computer Science graduates, which further necessitates the need for coding schools. Moringa School has built a reputation that precedes its name, and we are excited about this new partnership."
Says Snehar Shah, CEO, of Moringa School "We see ourselves as a Tech Career Accelerator in Africa. Moringa builds on the world-class training by offering globally competitive tech programs utilizing content from the leading Bootcamp in the USA – Flatiron school, to provide soft skills training, internships, and job opportunities to our graduates. Moringa is excited to partner with Hindsight Ventures to bring top-notch innovative job and entrepreneurial opportunities to our students and graduates".
Almost 54% of the developer talent in Africa comes from informal education options. However, within this source, the percentage contributed by coding schools is on the rise. This is more seen in the top-4 markets which are also the leading recipients of venture capital in the continent. Countries such as Kenya and Nigeria are seeing strong participation from industry, government, and development financial institutions towards empowering youth with digital skills.
Says Ajay Ramasubramaniam, Co-Founder & CEO, Hindsight Ventures – "This is a strategic partnership between us and Moringa School, as it helps us access their graduate developer and software engineers pool for opportunities with our portfolio startups and an extended network of venture-backed companies, as well as, to fulfill digital and tech talent requirements of innovation teams at leading corporations. In addition, we are exploring several other tailor-made joint programs and offerings which we will bring to the market shortly. On average, a software developer in Africa is younger than his / her global counterpart by 7 years – making Africa the home to a younger talent pool. With most of Africa being built "internet-up", tech talent is going to be a massive game changer and we are excited to be a part of this revolution".
For more information, reach out to:-
Ajay Ramasubramaniam
Co-Founder & CEO
Hindsight Ventures
Jagruti Bista
Co-Founder & Managing Partner 
Hindsight Ventures
About Moringa 
Moringa is a multi-disciplinary learning accelerator committed to closing the skills gap in Africa's job market by providing transformative tech-based learning. Founded in April 2014, Moringa plays a pivotal role in developing and nurturing high-potential individuals who are passionate about technology and want to take a lead role in Software Engineering and other tech-based programs. 
Moringa prides itself on training 4,000+ students and placing more than 85% of its graduates into leading companies throughout Africa and the world. In 2020, Moringa was listed among the top 50 Edtech companies in Africa by HolonIQ.  The World Bank cited Moringa as a leader in the space following its research into technology boot camps. Most recently, Moringa was selected as one of the World Economic Forum's "Technology Pioneers in 2021."  
Through a distinctive learning model and a  curriculum partnership with Flatiron School, the no.1 US Bootcamp, Moringa is creating world-class developers in Africa. 
For more information visit www.moringaschool.com